The team who produces 'Real Faith' has two great devotionals available for free 'The Word for Today' for adults, and 'Vision180' for youth.
Devotional for Adults
The Word for Today is Vision Christian Media's free daily devotional designed to give adult Christians practical teaching to keep them focused on their relationship with Jesus.
Written by Bob and Debby Gass, it's Australia's most widely read devotional, with more than 90,000 copies printed every quarter and more than 150,000 readers.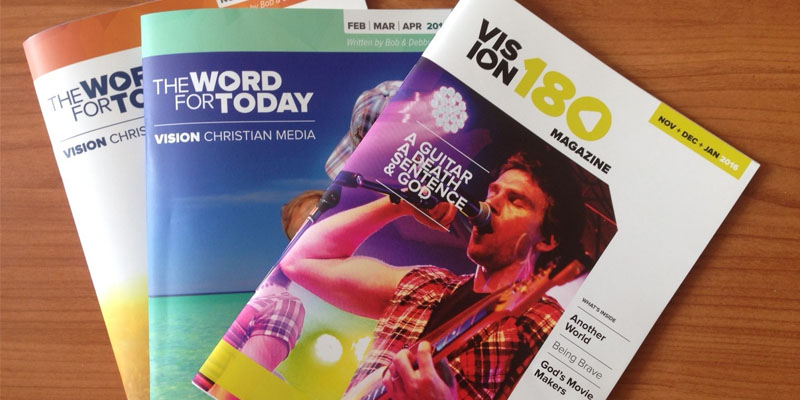 It all began in 1992, when Bob began jotting down inspiration he'd received from more than 40 years of being involved in Christian leadership, and from the Biblical principles and Godly values instilled in him by his mother.
Astounded by the response in the United States, Bob offered his devotional readings to UCB in the United Kingdom.
In April 1994, The Word for Today was launched in the UK with an initial print run of 3,500 copies.
Two years later, after hearing of its growing popularity in the UK, New Zealand and Australia began publishing it for their supporters.
Bob Gass refers to The Word for Today as 'a kickstart for cold mornings, when you don't feel like reading your Bible or find it a bit dry'.
Devotional for Youth
Vision180 is a daily devotional magazine that talks truth to young people, helping them to be relevant and real in their world. (It used to be called word4U2day)
Subscribe to the free Vision180 quarterly magazine, and you'll get:
daily WORD4TODAY readings
Soulfood plan to help you read through the Bible in a year
real life stories to let you know you're not alone